"And in an hundred years I think I shall like having young people speculate whether my eyes were brown or blue—of course, they are neither." —Zelda Fitzgerald in a letter to Scott Fitzgerald, 1919
Then Zelda Fitzgerald would be downright thrilled that almost 100 years later she is still the talk of the town, with the highly anticipated release of Baz Luhrmann's The Great Gatsby, set to open the Cannes Film Festival; the upcoming publication of Z, a fictional account of Zelda Fitzgerald's life; and, of course, the release of Superzelda, the first graphic novel about this Jazz Age icon that is a biography, love story, and travelogue wrapped into one. Through extensive research, the journalist Tiziana Lo Porto has cleverly played with Zelda and Scott Fitzgerald's own words, extracted from novels, stories, letters, and interviews, as well as statements made by their famous friends, including Ernest Hemingway, Gertrude Stein, John Dos Passos, and Sara and Gerald Murphy, to create the dialogue for this comic book and to vividly reconstruct the volatile life of this singular woman.
Referencing period photographs, the illustrator Daniele Marotta has not only successfully represented the characters but has also evoked the clothing, landscape, and energy of an era—especially that of the 1920s—in his detailed and playful two-color illustrations.
Tizaiana Lo Porto was born in Bolzano, Italy, in 1972, and has lived in Algiers and Palermo. She currently lives in Rome, where she is a journalist, and translates and writes books and comics.
Daniele Marotta was born in Orbetello, Italy, in 1972. He is a cartoonist and a scholar of visual communications and pop culture. He is also the author of Conan & Frodo (Simonelli Editore, 2007).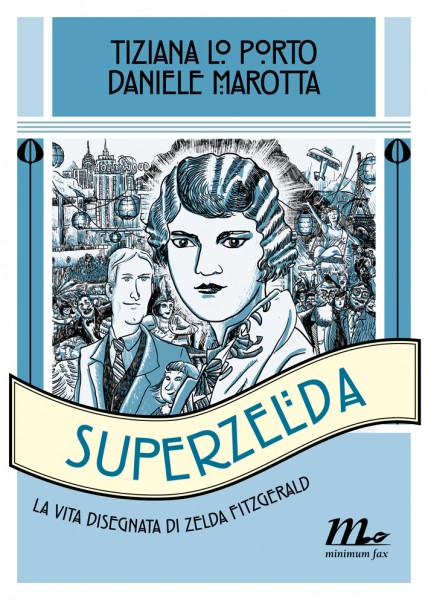 Together, since 2008, Tiziana and Daniele have been creating illustrated book reviews for D, the weekly magazine of La Repubblica. Superzelda is their first graphic novel.
One Peace Books (www.onepeacebooks.com) is based in Long Island City, New York, and is distributed by SCB Distributors (www.scbdistributors.com).