Press Release: Ink Pen Mutations announced today that their next title Zombie Rock Band Must Be Destroyed (ISBN-978-0-9776361-6-7) will come out this December.  The book chronicles the efforts of main character Jim to stop the government and record labels from cashing in on their contaminated talent.  Zombie Rock Band Must Be Destroyed takes the zombie genre and goes one step further with their fully developed vision of a world that seems to be adjusting to the zombie menace and capitalizing on it.   The graphically illustrated short story is 52 pages with 32 full color illustrations and retails for $10.95.  To order go to the books section of www.inkpenmutations.com.
"Our focus has first and foremost to always put our heart and soul into every book," explains CEO Ave Rose.  "Our books have been launched in the handcrafted style to reflect the art that books as a format should be.   Our line contains small run high quality production values and most of all a personal touch to our customer service.  We have grown our market base through consumer conventions and meeting people face to face in events at Hive.   We now look to slowly bring our line nationwide."
For more information about Ink Pen Mutations go to www.inkpenmutations.com.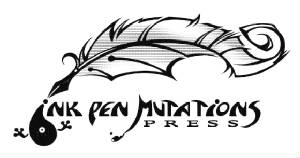 About Ink Pen Mutations: In 2005, founder of Ink Pen Mutations Ave Rose searched for an outlet that reflected her unique, no holds barred vision and found the world lacking and thus Ink Pen was born.   Her business model was to partner with the best unconventional West Coast artists to create products that brought new ideas to established genres, formats and themes. In 2008, a permanent installation in the renowned Hive Gallery in Los Angeles was secured to give all Ink Pen artists a place to display their work.   Primarily a West Coast business, Ink Pen is making the moves to go nationwide and put their avant-garde creations to the mainstream.  Ink Pen Mutations:-Your underground storybook generator.