Marvel
Writer: Mark Waid
Pencils: Mike McKone
Inks: Andy Lanning
Colours: Jeromy Cox
After a bout of entertaining nonsense in the Macroverse with the Fantastic Four, it's nice to see Spidey back on familiar ground. A lot has happened in the two months he's been gone. Primarily, J. Jonah Jameson has been elected mayor of New York, having inexplicably bounced back after media scoundrel Dexter Bennett took the Daily Bugle from him.
To further rub web fluid into Peter Parker's wounds his beloved Aunt May is now dating Jameson Sr., who is pretty much the opposite of Jr. in every way. Without spoiling anything, it must be said that this issue's final page presents one of the most stomach-turning and downright depraved images that Marvel have ever seen fit to print.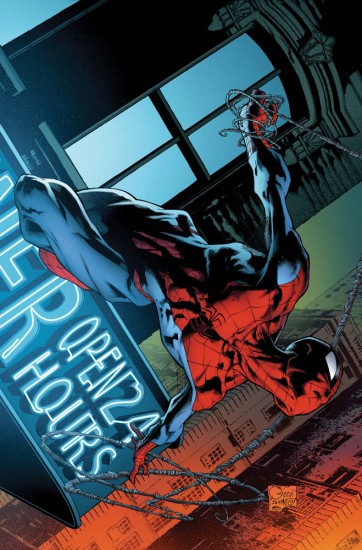 Excluding the brief glimpse of the new Vulture, nothing major happened in this issue, but it was a lot of fun. The basic premise behind '24/7' appears to be Parker's neglect of his civilian life as Spider-man relentlessly overshadows Jameson in the new headlines after an attempted truce with his former editor backfires.
Mark Waid is a dab hand at this serialised fluff and McKone's art was suitably crisp, though he does occasionally render Spider-man a freakishly large head. There's still a few more weeks until Dark Reign consumes this title, and the frivolous tone Waid, Van Lente and Slott have maintained for the past month should lead nicely into Marvel's all-encompassing crossover.
8/10