Titan Comics
Story: Antony Del Col, Conor McCreery
Art: Neil Edwards
Colours: Ivan Nunes
Titan has seized the comic book rights for Assassin's Creed at a delicate point in the series. 2014's main entry, Assassin's Creed: Unity, was so rife with graphical glitches and performance issues that many gamers vowed to stay away from the series for good, while the general consensus is that the series is suffering from franchise fatigue and seriously needs a break.
I, on the other hand, find something so irresistible in Creed's convoluted alternate history and metafictional Animus malarkey that I'm always up for new stories within Ubisoft's universe that are able to tell a similar story from a fresh angle. Does the first issue of the confusingly titled Assassin's Creed, from franchise veteran Antony Del Col and Conor McCreery (Kill Shakespeare), achieve that? Mostly.
This issue introduces unemployed gamer Charlotte de la Cruz, who, after a failed Templar assault, is enlisted by the Assassins in order to access the genetic memory of an ancestor who was busy stabbing and garrotting unfortunate civil servants during the Salem witch trials.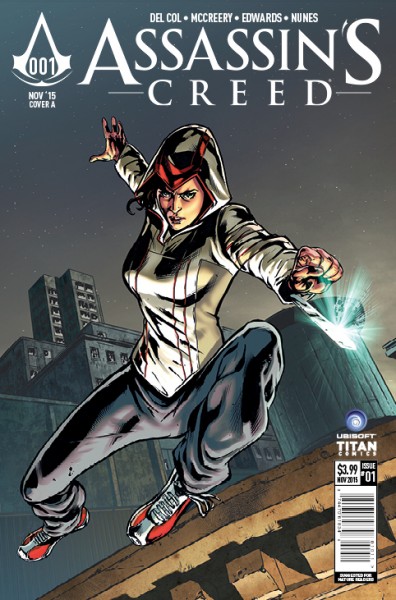 As with many video game tie-ins, a distinct lack of character lets this first issue down, predominantly because we're hurried through the premise's setup in such a workmanlike fashion. Other than the fact that she is unemployed and a gamer, I didn't come away from #1 with a sense of who Charlotte is or why I should care about her.
However, this issue's key twist on the series formula is a rather enticing one: Charlotte's male ancestor, Joseph, is a less than principled Assassin, seemingly willing to watch the public execution of an innocent. Various sites have criticised the lost opportunity for another prominent female Assassin, seeing how male-dominated their ranks have been so far, but I found this gender-swap the most interesting element of the comic by far.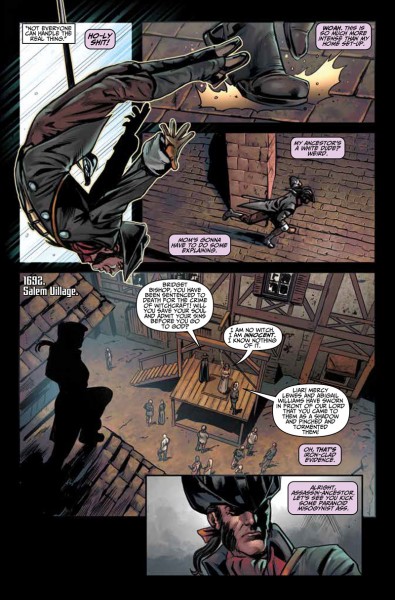 While the first issue of Assassin's Creed doesn't lay down much in the way of plot, Neil Edwards' decent art and an intriguing twist on the Animus concept were enough to give me hope that the series will provide more than a few unique twists on one of the video game industry's most interesting (and lucrative) series.