This is Indie Penance, my regular(ish) measure of casual mini-reviews focussing on the finest, craziest and/or most notable indie projects and creator-owned comics to have come my way.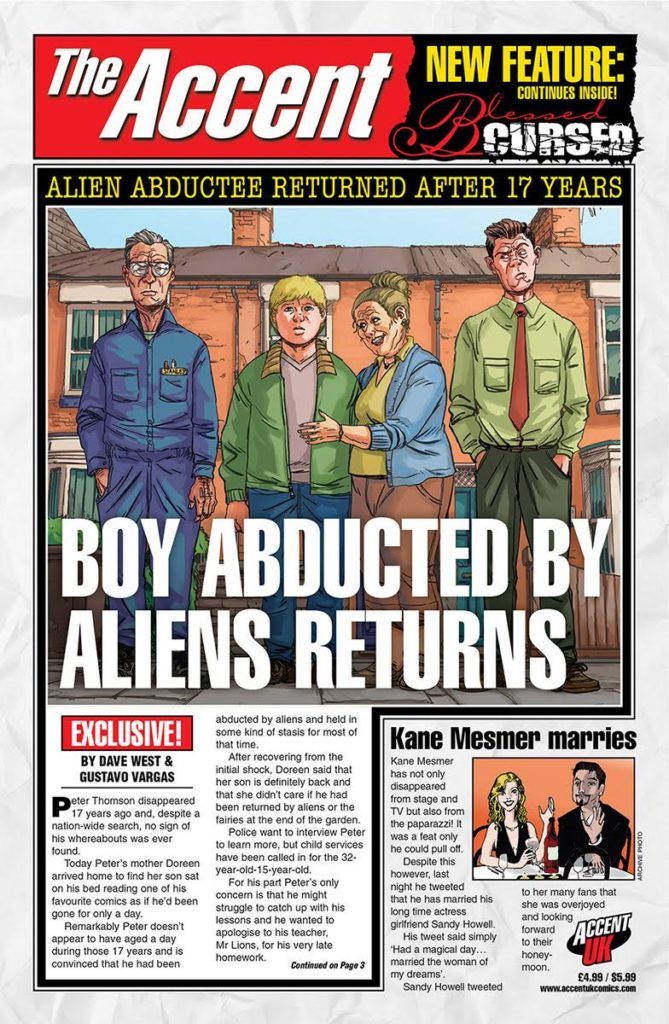 Boy Abducted by Aliens Returns
The fourth book in Dave West's Blessed/Cursed series, which includes Has Kane Mesmer Lost His Magical Touch?, is an unpredictable delight. This series of superhero-of-sorts standalones all take a darkly funny look at the stories behind typical sensationalist tabloid headlines, in this case that of missing teen Peter Thomson, who reappears seventeen years later having not aged a day.
But the reasons behind the disappearance are far more convoluted than one might expect. When young Peter accidentally uses the wrong toothbrush, he unexpectedly takes his brother's form, and soon realises that he has the power to transform into anyone on consuming the smallest sample of their DNA. Peter's plan to assume the identity of his teen crush's boyfriend soon spirals out of control, and West (Kia Wordsmith) takes great pleasure in leading his story in some truly unexpected directions.
Gustavo Vargas, whose previous work includes the dazzling L1MA, a cyberpunk comic incorporating Peruvian culture and bioorganic tech, is just as adept at drawing drab contemporary Britain, and his heavy inks lend weight to Peter's inadvertent descend into a nourish underworld.
Boy Abducted by Aliens Returns is published by West's Accent UK and will be available soon in Conventions and Festivals, with a kickstarter for a larger print run planned for September.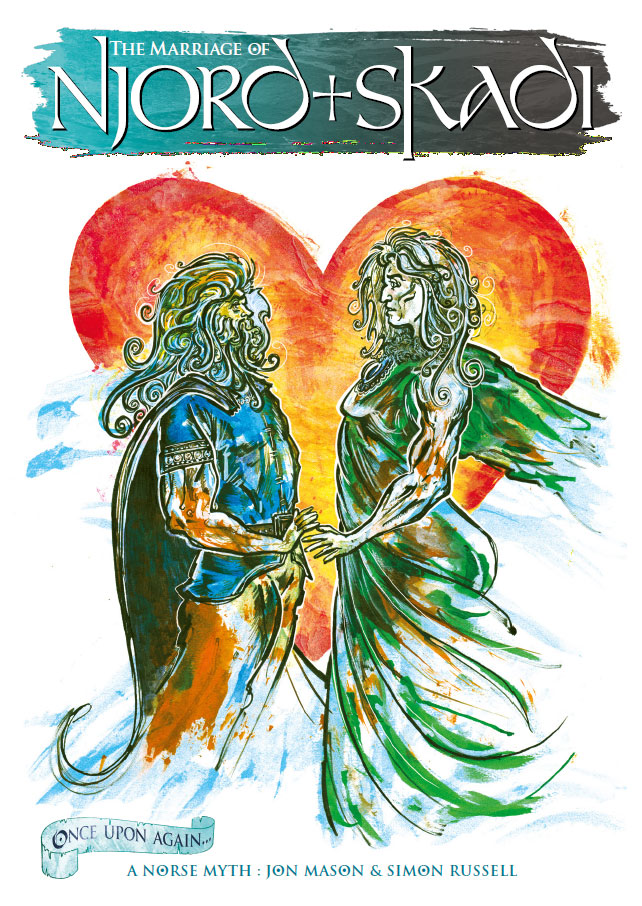 Once Upon Again #1: The Marriage of Njord & Skadi
After recently reading Simon Russell's collection of "found comics", Nearlymades, I simply had to back the kickstarter for The Marriage of Njord & Skadi, the first in a planned series of reinterpreted myths.
I receive more review submissions for comics retelling Norse mythology than I can be bothered to even begin recollecting. However, this collaboration between folklorist Jon Mason and experimental comic artist Simon Russell is notable for its use of modern storytelling sensitivities to explore the lesser known myth of Skadi, whose vengeance against the Aesir for killing her father is suppressed by her forced marriage to Njord, god of the oceans and trade. Their union leads to a mutual affection, but with it the understanding that opposites must eventually part ways.
Mason's script tells both Njord and Skadi's perspective in parallel, while Russell's art is spontaneous yet intricate, a dreamscape of untamed inks and swirling, hypnotic textures; the former using experimental brushes made from materials such as feathers and branches, the latter again built upon found imagery.
The Marriage of Njord & Skadi comes in at just 24 pages, though the kickstarter edition is beefed up to 64 pages by sketches and related articles. It's perhaps too slight to explore the characters in much depth, but its sparse yet poetic dialogue and emotive art leave a lasting impression.
The creators will be selling the book at various UK comic conventions, including Portsmouth Comic Con, but those who'd rather avoid the unwashed masses can order a copy at boinggraphics.co.uk.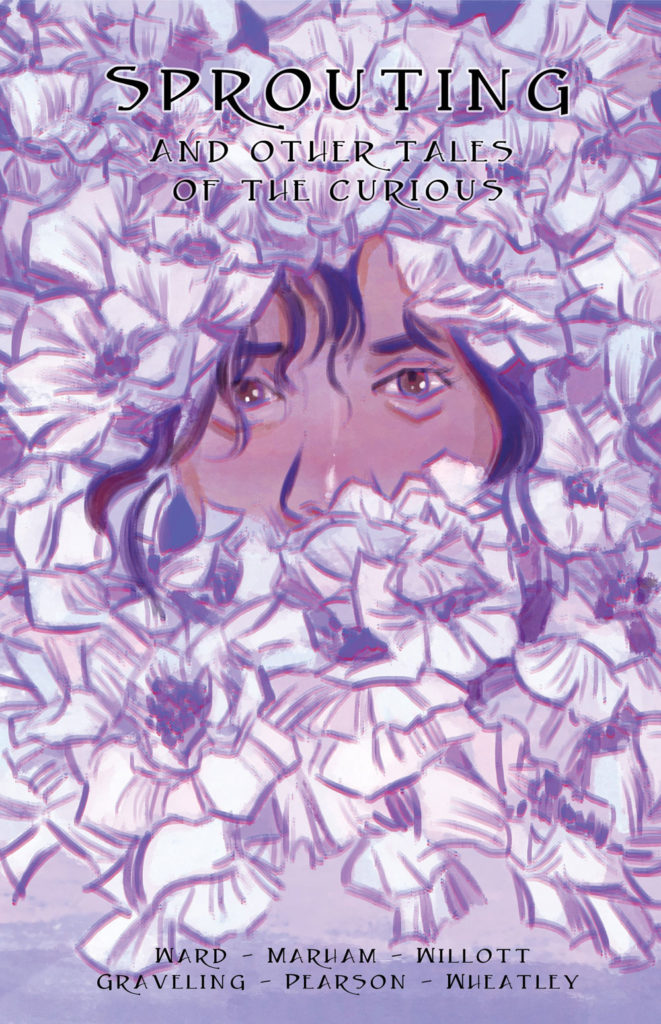 Sprouting and Other Tales of the Curious
Asa Wheatley's anthology of short stories mixes folklore, horror and the fantastical, all written by Wheatley and illustrated by a team of up-and-coming artists.
'A Witch's Penance' by Michelle Marham (Feline Trickster) is a grim 19th Century tale of witch hunters and abused women fighting back. Kat Willott, who illustrated Wheatley's previous book Tails of Mystery, gives us Victorian horror 'Hanging in the Darkness', in which a policeman makes the mistake of exploring a forsaken home alone. By far the best of the selection is the bittersweet 'Sprouting', illustrated by Sammy Ward (Scavengers), in which a young woman must come to terms with the fact that she's slowly transforming into vegetation.
Emma Graveling provides imagery for sinisterly nostalgic prose story 'Finders Keepers', and the whole package is wrapped up in a beautiful cover by Emily Pearson.
As of writing, Sprouting and Other Tales of the Curious has been fully funded on kickstarter with over a week to go. Pledges are very reasonable, £3 for a digital copy and £6 for a physical, so take a look and show the book your support.