Wildstorm
Story: David Tischman
Art: Philip Bond, David Kahn
Colours: Guy Major
Three issues into Red Herring and I'm still no sure what to make of it. It's never exceptionally thrilling, original or intriguing, and yet there's an indefinable quality about it that keeps me reading.
Perhaps it's Philip Bond's (Vimanarama) wonderfully energetic art, the concoction of humour, politics and Roswell conspiracy lampoon, or the hope there's much more going on behind David Tischman (Greatest Hits) plot than initially meets the eye.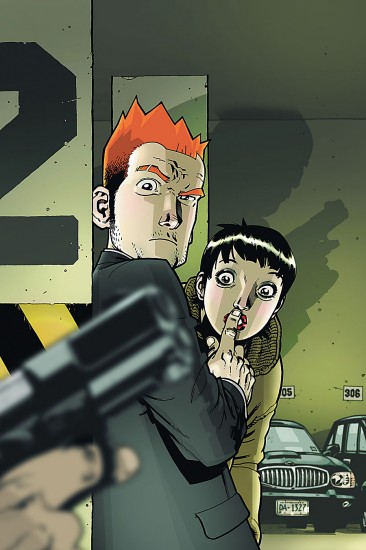 'I'm Too Old for an Anal Probe' follows the presumed missing Maggie MacGuffin and federal agent/con man (we're not quite sure) Herring as they are on the run from the American government for reasons yet to be revealed. Extra terrestrials are definitely involved… or at least the threat of an alien invasion as manufactured by the US government. Then there's Meyer Weiner, a nauseous Woody Allen type who's also involved in whatever Herring's up to.
Yes, that was quite possibly the vaguest synopsis I've ever written; but this series sure warrants it. Red Herring is not what you'd call fast paced, and the discourse between the lead characters is good enough that it doesn't need to be. But something important has to happen soon; I feel the book is seriously suffering from a discernable enemy or threat. Then again… others may love this series even more for precisely that reason.
I'd definitely recommend Red Herring to anyone weary of mainstream superhero/supernatural books, and looking for something eccentric, witty and angst-free. The meandering plot will probably work better in a collected format, but Tischman's satirical writing depicts enough government incompetence and political seediness that it's always a satisfying monthly read.
7/10