IDW
Writer: El Torres
Art: Gabriel Hernandez
Oh to live in a comic book universe. When recession hits our dull and miserable world, we begin flogging our possessions on eBay and head to the job agency. Not so for Christine Luna, who resorts to earning an income by helping the dead find retribution in exchange for their hidden savings and not-yet-cancelled credit cards.
So often I pick up a novel looking new series with and intriguing premise and a beautiful cover only to find generic looking superhero pencils or Americanised-anime art inside. Thankfully that's not the case here, and the erratic art by Gabriel Hernandez (Clive Barker's The Thief of Always) complements this series perfectly. Hernandez's work is very similar in style to that of Bill Sienkiewicz, with a sepia tone that makes inventive use of red whenever the wounded dead show up.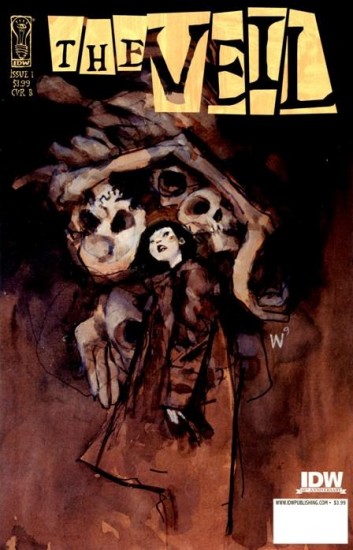 El Torres (Zombies!: Eclipse of the Undead) takes a slow approach to plotting this first issue. Not a lot happens, but his cast are introduced in a casual manner that doesn't suffer from an effort to cram as many ideas or subplots into twenty-four pages as is possible. Christine is a refreshing change from most comic book gals; homely, considerate and meek.
The only remotely negative thing you could say about The Veil is that it feels far too similar to numerous current television shows and movies – The Sixth Sense, Ghost Whisper, Medium and Miles from 'Lost' amongst others, all cover a similar premise. But this was an effective first issue, delivering a believable heroine and ending with a promising revelation.
8/10