Those wretched few who know me outside of this blog will tell you that if there's one thing I've always been vociferously critical of, it's prudishness. The world would be a far nicer place to live in if people learned to enjoy their bodies, enjoy sex, enjoy (tasteful) pornography… or just find happiness in opting to keep their clothes on.
Those with coitus on the brain will be pleased to know, then, that popular webcomic Oh Joy Sex Toy has returned for a third collection from Oni Press. If you're not familiar with Erika Moen and Matthew Nolan's series of sex toy reviews and related strips, use the above link to check it out. You may love it, you may hate it, you may even go pale at the idea of homosexual pornography or niche sexual proclivities depicted with such forthrightness, but there's no denying the positivity that comes through in their attitude to sex. Comics are too often used as platform for hatred disguised as progression, but Oh Joy Sex Toy is truly a series that welcomes anyone willing to leave their own prejudices at the door.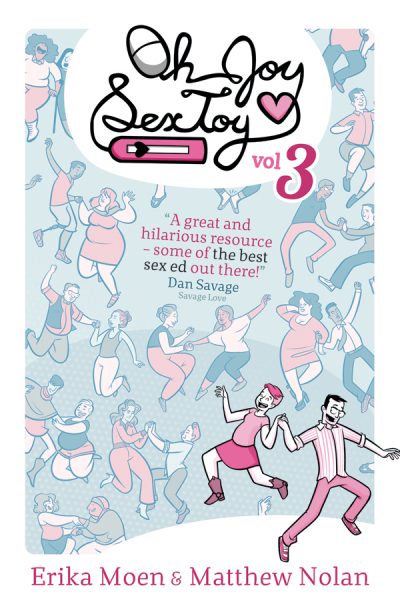 Volume 3 is business as normal for these collections: sex toy reviews, candid chats about sex, interviews with sex workers, woeful puns, and some personal stories. Some fine guest artists contribute, and while a couple of these guest strips don't quite gel with the book's overall ethos, others such as Kiku H's portion on asexuality, 'Ace', manage to depict a fresh viewpoint on a topic that the Nolans have seemingly covered from every angle.
Erika Moen's art is equally vibrant and playful, in stark contrast to how sex is typically depicted in webcomics; never is it shown in either a lurid context or dour educational format. I adore Moen's celebration of sexual behaviour in all its forms and flavours. There's something strangely uplifting about reading through her experience with a new gadget or trip to a strip show, and Matthew's contributions balance things out with an equally broad-minded male perspective.
Oh, and the duo have also released an Oh Joy Sex Toy Coloring Book, of which the very concept had me grinning like an idiot for hours.