Crunchy Cool Comics, 2015   
Writers: Jim Ousley, Oscar Madrid
Art: Benjamin Sawyer
While I imagine that they're a hard sell, I've always had a fondness for comic book anthologies. They're a great outlet for new writers and artists to gain exposure, an avenue for veterans to try something new and a veritable lucky dip. That's probably the biggest draw with such anthologies; for better or worse you never know what you're going to get.
The Rough + Tumble (or to use its full title The Rough + Tumble: Five Comic Tales of Blood, Sweat and Heartbreak) is somewhat unusual in that its five short tales are from the same trio of creators. Co-writers Jim Ousley and Oscar Madrid present a diverse selection of stories from all manner of genres and storytelling approaches, with Benjamin Sawyer effectively giving each segment a distinctly different aesthetic.
Regardless of the storytelling style on display, there's a strain of dark humour running throughout. The longest and most impressive tale, 'Sonny Kane and the Mephisto Burlesque' is a reference-laden horror comedy split into two sides, and is itself the length of a standalone comic. 'Bubblehead Road' is a nod to the EC horror anthologies of another era, while 'Up to the Skies' is a simple 3-page effort that probably wouldn't find a home outside of a book such as this, but was possibly my favourite entry.
With this eclecticism comes an occasional lack of focus, however, and the bizarre romance 'The Great Pretender' falls flat because its creators seem unsure whether they want us to laugh or feel. The humour works better in 'Kings of the Night Time World', a daft romp that's equal parts a parody of buddy flicks and a trailer for a sadly non-existent film.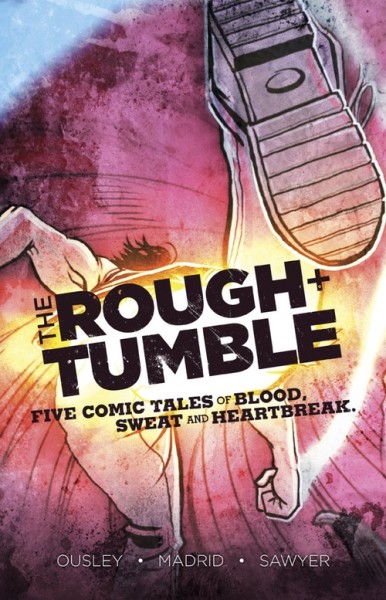 Sawyer implements every digital art trick under the sun to give each piece its own identity, and it works – on my first flick though the book I assumed several artists had worked on it. Each tale has a distinct palette and visual tone that reflects Ousley and Madrid's range.
The Rough + Tumble is a bit rough around the edges, and several of the stories don't quite hit the mark, but what you're essentially getting is a disparate demonstration of what these comic book newcomers are capable of, bundled together into a rather splendid hardback package by Grant Essig. I can't emphasise how nicely designed the book is, and the mock adverts inserted into and around the tales will give readers of a certain age a fuzzy nostalgic feeling.
The book was funded on Kickstarter, where it attracted 259 backers. Such solid support is evidence of the overall quality of the project and its creators' potential. So check out The Rough + Tumble on the equally slick www.roughcomic.com, and if its blend of horror, humour and genre pastiche piques your interest then certainly check it out. There's a hell of a lot of youthful energy and original ideas going on here, and I look forward to seeing what Ousley, Madrid and Sawyer deliver next.