Action Lab Comics, 2013
Writer: Jesse Grillo
Art: David Brame
Colours: Heather Breckel
Action Lab Comics has certainly upped the ante with its Danger Zone imprint for mature readers. I thoroughly enjoyed Ghost Town: Ground Zero, and found Ehmm Theory to be a appealing enough horror title. The Trip, from writer Jesse Grillo and artist David Brame, is yet another highly polished indie title; an old-fashioned Tales from the Crypt-inspired horror tale of a drug which induces lethal hallucinations.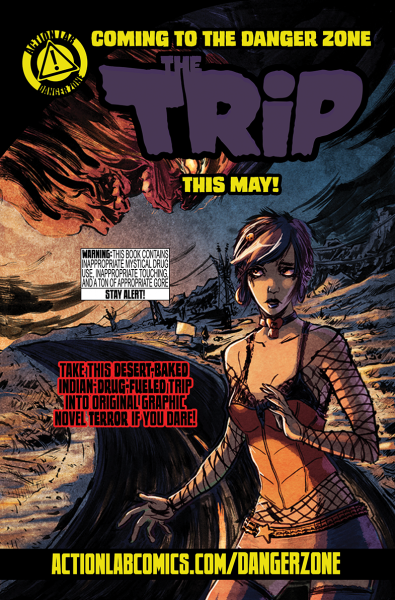 And what better victims to fall victim to said blunder drug than a group of holidaying college students (that title is a double entendre, see?), who, when forced to dispose of their stash of magic mushrooms, buy  a 'demon weed' from one of the locals. Soon, the teens are forced to each face their own fears, and either tackle their inner demons or die horrible deaths.
The Trip perfectly captures the spirit of the horror movie, in that it's a breezy but thrillingly disturbing read. Jesse Grillo's engaging script gives us enough characterisation to feel for the hapless archetypal youths, while David Brame's art, backed by Heather Breckel's lurid sun-baked colours, has a scrappy and loose approach which comes into its own when reality makes a swift exit during the story's third act.
Much like your average horror movie, The Trip is also a pretty disposable ride, and I'd already forgotten much of what happened in it before sitting down to type this review. But the talented individuals involved all ensure that this 96-page graphic novel is anything but dull, and genre fans will get a considerable kick out of Brame's imaginative hallucinogenic death scenes.