As part of a year-long 35th Anniversary celebration, Heavy Metal Magazine is inviting artists to submit their artwork or photography in the hope that it will be one of ten efforts to be published in the magazine's September 2012 issue.
The theme for this competition is based around this rather flexible question: What is your vision of Pestilence?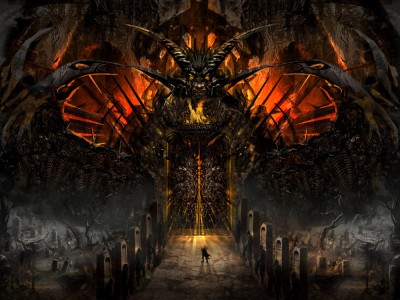 This promotion coincides with the release of The Four Horsemen of the Apocalypse Book One: Helldiver, on April 13. The book, written by Michael Mendheim (whose videogame credits include Mutant League Football and Robocalypse) and featuring art by the legendary Simon Bisley (ABC Warriors, Sláine, Lobo), is the first in a series of three hardback volumes, and follows a hell-bound warrior's attempts to recruit three souls to join him in battle against the Four Horsemen of the Apocalypse.
The contest ends April 28, 2012, and more information can be found at http://fourhorsemen.heavymetal.com/.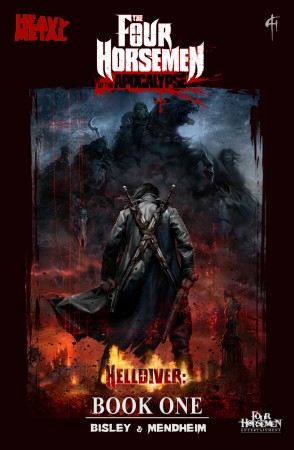 From the press release:
What is your vision of Pestilence? Heavy Metal Magazine and The Four Horsemen of the Apocalypse invite artists to submit their original artwork or photography interpretations to the Pestilence Art Contest through April 28, 2012. Top 10 Finalists will have the honor of their artwork celebrated in Heavy Metal Magazine's September 2012 issue and receive a subscription to Heavy Metal Magazine, Top 5 Finalists will also receive signed copies of "The Four Horsemen of the Apocalypse: Book One: Helldiver" and Dystopia Rising: Table Top RPG from Eschaton Media with the Grand Prize Winner also taking home an original, signed Simon Bisley painting of Pestilence!

The contest is simple. Submit your vision of Pestilence through original artwork or photography through April 28th 2012 at http://www.facebook.com/thefourhorsemenoftheapocalypse. The Top 10 Finalists will be chosen by Simon Bisley, Kevin Eastman, Dave Elliot and Michael Mendheim. Fans will choose the Grand Prize Winner from the Top 10 Finalists by Votes at the Four Horsemen of the Apocalypse Facebook page at http://www.facebook.com/thefourhorsemenoftheapocalypse.

"I feel we have created a top-notch horror story that combines the feel of the Matrix with Hellraiser." said Michael Mendheim, creator and writer. "We've already received a lot of great reviews and response from fans who've got an early peek at the story. We're running the Pestilence Art Contest as a way of saying thank you to Simon's fans as well as the life-long fans of Heavy Metal."

Comics legend Simon Bisley adds "This book demanded a lot from the team and I think we all have something to be proud of. I'm thrilled to be a part of the story and to give Kevin Eastman and Heavy Metal Magazine a great way to celebrate 35 years of publishing incredible stories. I can't wait to share one of my paintings with the winner of the Pestilence Art Contest.

"35 years is a long time for many people in this industry and we have a lot to celebrate at Heavy Metal", says Kevin Eastman. "We're coming out guns blazin' with special retail promotions for our retailers and appearances at many of the upcoming Comicons."