Image Comics will be publishing a trade paperback collection of issues 1-4 of D.O.G.S. of Mars, the sci-fi/horror title originally sold via digital platform Comixology.com.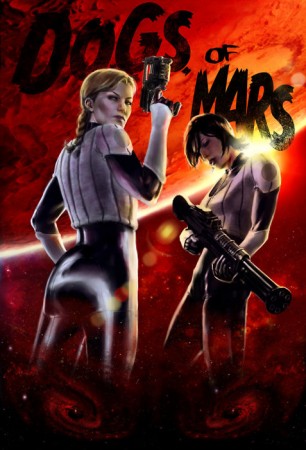 The series, produced by Philadelphia-based studio South Fellini (Moon Girl, LaMorte Sisters) and illustrated by Paul Maybury (Marvel Strange Tales, Comic Book Tattoo and webcomic Party Bear) follows Zoe, the swashbuckling captain of Earth's first Martian colony, and her battle against an invasion of nocturnal beasties on "the farthest frontier of civilization".
"We take you to the edge of the future and find that people haven't changed all that much.  Things go 'Lord of the Flies' pretty quickly and these characters discover who their friends and enemies really are," says Tony Trov.

The unique art style of Paul Maybury helps bring the gruesome story to life. Johnny Zito comments, "Paul's designs are very industrial with Japanese gore splattered about. His vision of the monster is a grotesque, alien twist on the classic werewolf."
D.O.G.S. of Mars will be available this May, priced $15.99.