Brett Uren, author of 215 Ink's unique and rather beautiful looking Kuzimu, is seeking funding to help promote his new book at the New York Comic Con this Saturday the 13th and Sunday 14th of October, via an indiegogo campaign.
Brett, who hails from Aylesbury, hopes to join other 215 Ink creators such as Andrew DelQuadro at booth 2279, and is looking for $1,750 to fund his flight and stay, and spread the word about his shamanism-inspired horror series "about the realm of the dead and the consequences of a single life across time. Once a Maasai shaman, Pt'eros must face the truth of his existence to find peace and escape the afterlife. It is a dream-like book filled with interpretive visuals, symbolism and fantastically weird beings."

"Hang on guv," you might ask, "why should we help an already published work?" Because, uninitiated reader, this is the 21st Century, and comic creators are now required to not only write, illustrate, ink and letter the funny books we so enjoy, but market them as well. As a writer with numerous 'finished' creative projects locked away in a dank chest somewhere (on a not-quite-so dank USB stick), I have always been of the opinion that writing is easy: it's the bit afterwards that's an uphill struggle. And Kuzimu's journey to a 194-page physical copy has been no exception, with the comic previously self-published as a webcomic, and later sold digitally on Graphicly.
So why not help Brett spread the word, and receive such perks as bookmarks, wallpapers, sketch cards, t-shirts, commission sketches and even original inked artwork from the first Kuzimu volume?  As a bonus, second tier funders can also collect their incentives from Brett on the day, and receive either a pre-prepared sketch, or one drawn on the day.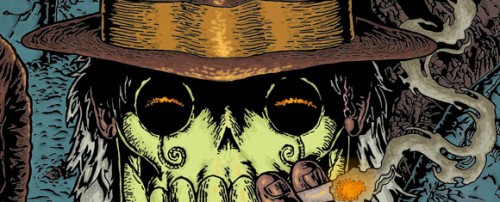 Link: http://www.indiegogo.com/get-kuzimu-to-comic-con?c=home