Ape Entertainment and Imangi Studios announced today that issue five of the Temple Run Digital Comic is available at the app store. This issue is part five in The Chosen One Story Arc and can be downloaded at https://itunes.apple.com/us/app/temple-run-comics/id571061997?mt=8&ls=1.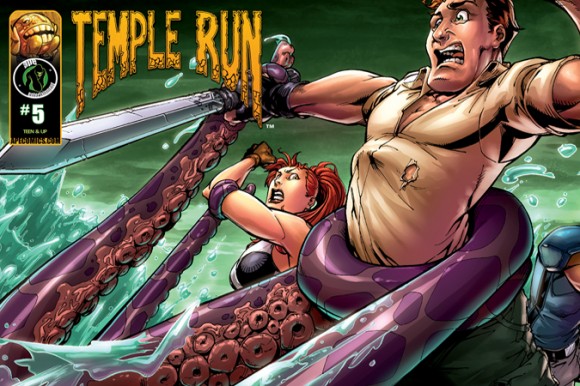 Using a Viking ship, Guy Dangerous, Scarlett Fox and the rest of the group escaped from all of the danger last issue, right?  WRONG!  When 'Danger' is part of your last name, it follows you around like a puppy.  …a hungry puppy  …a dangerous and scary hungry puppy  …never mind, bad metaphor, but you get the point.  Danger = RUN!
Between all the action, there is a chance for some conversation.  So there are some answers as well as some new questions!
Join us on this pulse pounding path of peril that expands the world of the TEMPLE RUN app game!
And yet again… don't peek ahead to the shocking last panel!  It's a big one!
Pulse pounding cliffhangers are around every corner in TEMPLE RUN!
About Ape Entertainment
Founded in 2003, Ape Entertainment is the brainchild of lifelong comic book devotees David Hedgecock and Brent E. Erwin. Ape Entertainment is the comic book home to innovative new titles such as LITTLE GREEN MEN, SCOUTS, and HERO WITHIN.  Ape is also the North American publisher for licensed properties THE PENGUINS OF MADAGASCAR, KUNG FU PANDA, RICHIE RICH, CASPER, STRAWBERRY SHORTCAKE, POCKET GOD, and CUT THE ROPE. Visit Ape Entertainment online at http://www.ApeComics.com.
About Imangi Studios
Imangi Studios was founded by husband and wife team Keith Shepherd and Natalia Luckyanova in 2008 with the goal of creating small fun games for everyone to enjoy.  What started as a dream job for the couple has evolved into a successful business, with Keith and Natalia now working with a team of other talented game creators. In 2011, the studio developed the mega-hit Temple Run, which has been downloaded over 170 million times. Based in North Carolina, the self-funded, fully independent studio has also developed a number of other games including Harbor Master, Temple Run: Brave, and Temple Run: Oz. Official Website.