Wayward Raven Media is proud to announce the much anticipated release of their horror/fantasy comic The Ascendant, issue 2. Cail, a Duke of Hell, returns to do penance by sending escaped demons back to the underworld. This time, however, the pursuer is the pursued. Joined by his fellow escapee Faustus (the doctor himself) and a new cohort, Cail fights for his life in one of Italy's most dangerous and hellish terrains.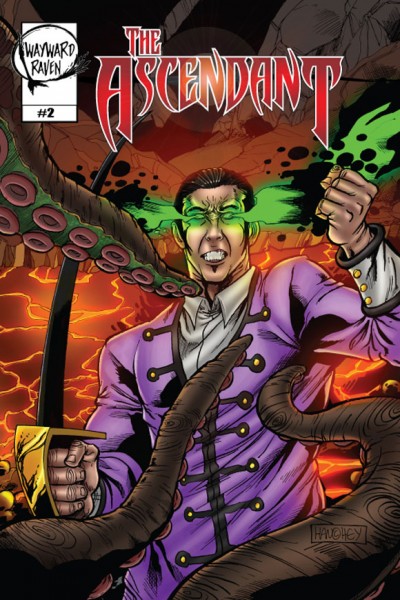 Signed print copies can be purchased first at Boston Comic Con on April 20th and 21st at the Hynes Convention Center. For those who want it sooner, a digital version can be found by going to the Wayward Raven website. If you missed the first issue, don't fear! It, along with other great Wayward Raven products, can be procured by going to waywardraven.com.
Bring a copy of this press release to one of our tables in Artist Alley (AAW54 and AAW55) at the Boston Comic Con and get a dollar off your purchase or two dollars off any multi-item purchase. Show up in one of our t-shirts (see our shop page on the website) and get a free book!!!!
Also available by Wayward Raven Media:
The Ascendant, Issue 1 – A tale about an escaped Duke of Hell who begins to feel remorse for his millennia of debauchery and cruelty. That guilt causes him to masquerade as a human and go on a crusade against the other escaped creatures that inhabit the earth, corrupting and harming its citizens.
Horsemen, Issue 1 – An intergalactic team is locked in an ongoing galactic battle with an enemy bent on destroying freewill in the multiverse. Issue two available soon.
The Cell – In this paranormal novel, an aspiring comic book artist loses his way until a call comes from beyond the grave. When living and dead unite in a quest, all souls are saved along with dreams for future days.
Ominous Odes – A collection of short stories that tells tales of the dark and eerie that always lurks just outside of human perception, fleeting upon the cusp of vision. A dark lottery ticket, a future serial killer, a tragic female legend and a detective on the trail of a killer all reside within.
Damn Heroes – Weekly web comic about Sebastian, a hapless norm stuck in a city of overly zealous superheroes with more muscles than sense. Check it out for free on damnheroes.com.
For more information visit www.waywardraven.com or http://www.facebook.com/waywardravenmedia.
Ars longa, vitae brevis. Wayward Raven… soaring on winds of imagination.