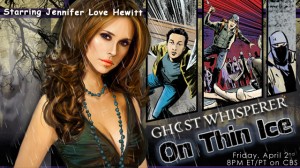 While comic book adaptations are nothing new to television, it's only recently that comics themselves have featured so predominantly on TV. Heroes, The O.C. and Supernatural have all enjoyed episodes or story arcs involving them colourful lil' pamphlets in some form or another.
Ghost Whisperer will also be having a comic-centric episode this Friday 2nd April, with a plot involving a graphic novelist and, quite literally, a ghost writer. The art for the metafictional graphic novel has been created by Gabriel Hardman of Agents of Atlas and Hulk renown.
The series is no stranger to the comic medium, with IDW having printed a Ghost Whisperer tie-in series and related trade paperbacks. Jennifer Love Hewitt's also created the The Music Box, a comic series that was nominated for the category of Best Celebrity-Created Comic Book in the Comicpalooza Fandom Awards.
Check out the synopsis for 'On Thin Ice' (Season 5, Episode 17) and a fun trailer below:
A graphic novelist's livelihood – and life – are threatened when a vengeful ghost takes over his pen, using it to predict violent events that start to come true. On Thin Ice is very special episode that takes you into a world Ghost Whisperer has explored on multi platforms (comic books, graphic novels, interactive DVD special features, on-line assets, Comic-Con, etc.), but never explored in a TV episode. On April 2, Melinda Gordon (Jennifer Love Hewitt) will experience the spirit world like you've never seen it before – through a haunted graphic novel that comes to life. You won¹t want to miss this stunning all new original episode guest starring Margaret Cho!
Fans of the show might want to wile away a few minutes on the Ghost Whisperer Haunted Puzzle, which features Harman's art by visiting www.gwfansite.com/hauntedpuzzle.
And finally, a handful of the aforementioned images by Gabriel Hardman: